Email is one of the most common ways to communicate with customers and potential clients, but the mechanics of getting folks on your list to read the emails you send can often be a mystery. To make things worse, the number of emails flooding inboxes is just over 100 a day for many users so you have to make sure your email stands out to make sure it gets read.
AppSumo just release one of the most comprehensive blog posts we've seen on email open rates we've seen in quite a while, so we'd thought we share the article along with a few highlights that we'll be taking to heart and implementing ourselves. First, you'll learn how to calculate open rates and metrics that go into running an email list, and then there are several tips for optimizing your email list.
Here are 2 highlights that we realized we're most likely to overlook:
1) You're Not White Listed
Gmail and other email inboxes have filters that shuffle emails from unknown users to promotions tabs, or worse, the junk mail filter. Use this technique to make sure that you land in the user's primary inbox.
By adding instructions to your Thank You page. After your visitor opts-in, direct them to a page with directions for how to whitelist your email address and ensure they receive all your fresh content.
2) You're Not Optimized For Mobile
48% of emails are read on mobile devices (yeah we were a little surpised too) according to HubSpot and 75% of Gmail users read emails from their phone. That means if your email is not properly formatted to be easily read on mobile you could be missing out.
In particular, that's optimizing the "from name" in your email and ensuring that your name is 20 characters or less so the name isn't cut off on smaller screens. Next, you'll need to optimize the preheader text that displays before the email is opened. This is the 1 – 2 sentence email preview following the subject line and it's the perfect place to generate a strong lead-in to the rest of the email.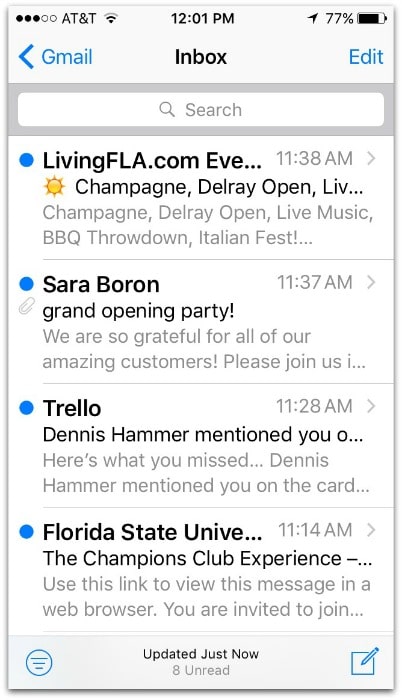 Here's a quick hit list that is mentioned in the article:
Use a call to action.
Support your subject line –– don't reiterate it.
Your character count includes your subject line so the longer this is, the less preheader text your recipients see.
Cut to the chase.
Test out different preheader summaries.
You should see a noticeable boost in your open rates when you correct these small mobile issues.
For 8 more solid tips, check out the article and start improving the open rate for your emails to your email list today.
Resources Mentioned:
https://sumo.com/stories/email-open-rates
https://www.hubspot.com/marketing-statistics